Grandma Moses—American Painter
September 7, 1860, Greenwich, NY, 4:00 PM, LMT (Source: Church of Light), or 3:38 PM, LMT (Source: LMR cites Tucker who quotes her in Research Quarterly (Volume 4, 1961). Died at 101 Robertson on December 13, 1961, Hoosick Falls, NY, USA.         

<![if !vml]>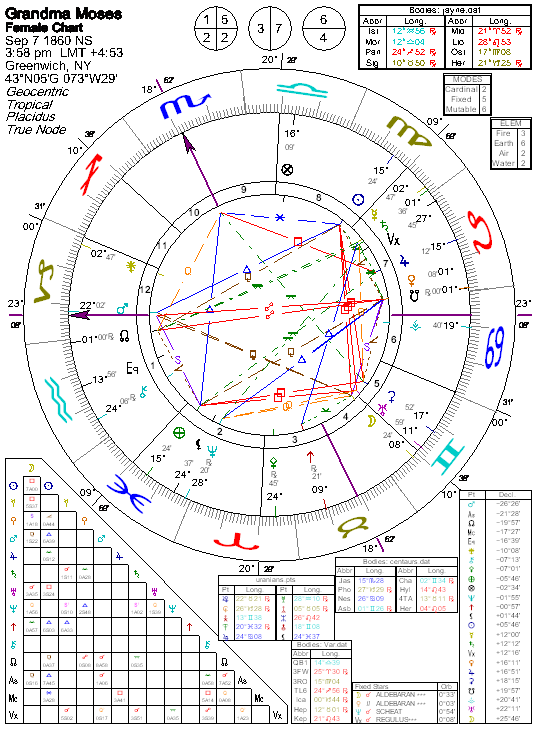 <![endif]>
(Ascendant, Capricorn: Sun in Virgo; Mercury conjunct Saturn in Virgo; Moon conjunct Uranus in Gemini; Venus and Jupiter in Leo; Mars rising in Capricorn; Neptune in Pisces; Pluto in Taurus).       

Beginning her career as a painter relatively late in life, Grandma Moses went on to become one of America's best known and beloved artists. Her paintings are, in a way, part of the "American Primitive" tradition; the kinds of skills acquired in art school—perspective, proportion, realistic shading, etc.—are not the emphasis among such painters. Instead, an almost child-like representation of familiar country scenes is to be found.
She painted with a naïve literalism (Virgo, Saturn/Mercury) which is part of the great charm of her works. Great attention was lavished upon the minute and particular. A love of the tiny object, the tiny detail correlates with the strength of Virgo and the seventh ray in combination. Capricorn on the Ascendant reinforces the seventh ray.